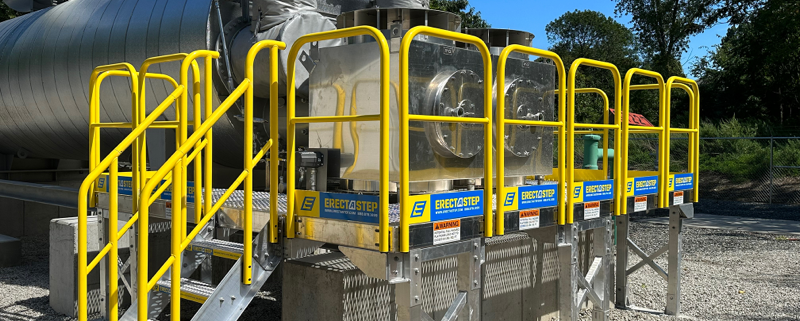 Creating a Safer Working Environment
Ensuring the safety of your employees and vendors is a paramount concern for any business. Fortunately, innovative solutions like ErectaStep have made protecting your most valuable assets more accessible than ever. As the exclusive Northeast distributor and installer for ErectaStep, Greenwood Roofing Solutions (GRS) is your trusted partner in designing and installing a safer working environment through modular metal stairs and work platforms—whether on a roof or in the heart of a facility.
One recent success story that exemplifies the effectiveness of ErectaStep is our installation at UMASS Lowell. The challenge was accessing a rooftop in a complex area filled with numerous pipes and ducts. Traditionally, such scenarios would require costly engineering and customization. However, ErectaStep changed the game entirely. Our experienced team managed the entire process, from design to removing the old, hazardous ship's ladder and installing the new, secure staircase.
ErectaStep's capabilities extend beyond rooftop installations alone; it is an all-encompassing safety solution for your entire commercial property. Consider our installation at a facility in East Providence, RI, where we provided easy and secure access to tanks, ultimately ensuring the safety of workers. Similar solutions can be seamlessly integrated into production floors or other areas requiring a safety overhaul.
One of the key advantages of ErectaStep is its modular nature, which transforms the design process into a versatile and efficient one. Using their design software, our team can effortlessly assemble stairs, safety rails, crossovers, and ladders tailored to fit any space. In a recent installation, we combined a staircase with a small platform at the top and a safety rail to cover a gap in the railing. This transformation turned a treacherous ship's ladder into a protected, secure staircase. In this installation video, you can witness the entire process in action, where the substantial upgrade from the old ladder to the new, safe staircase is evident.
If your commercial property needs a safety overhaul, please don't hesitate to contact us for a demonstration or assessment. Greenwood Roofing Solutions is committed to enhancing your business's safety and peace of mind.

https://greenwoodindustries.com/wp-content/uploads/2023/10/erectastep.png
321
800
C
https://greenwoodindustries.com/wp-content/uploads/2021/11/Greenwood-Industries-Logo.png
C
2023-10-10 20:50:55
2023-10-20 08:59:04
Creating a Safer Working Environment